Nov 19 / 2019
Comments Off on Providing remote access to devices via SSH tunnels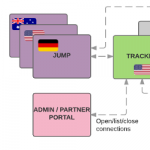 Cloud Computing, Distributed Systems, Programming
At my work, the backup appliances are typically physically located inside the LAN of our end users — much like other appliances such as routers, NAS devices or switches. Under normal circumstances that means that they are behind a NAT and are not reachable from the public Internet without a VPN or other tunneling mechanisms. For my employer's customers, the Managed Service Provider (MSP), only being able to access their devices with direct physical access would be a major inconvenience.
Fortunately we've always provided a remote management feature called "Remote Web" for our customers: Remote Web lets them remotely access the device's web interface as well as other services (mainly RDP, VNC, SSH), even when the device is behind a NAT.
Internally we call this feature RLY (pronounced: "relay", like the owl, get it?). In this post, I'd like to talk about how we implemented the feature, what challenges we faced and what lessons we learned.