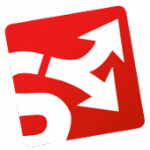 Contents
---
---
Download as PDF: This article is a web version of my Master's thesis. Feel free to download the original PDF version.
---
B. Pre-Study Folder Statistics
To get a better idea of what kind of data users will be storing inside the Syncany folders, the pre-study asked users and developers to run a small java program to collect data about the files types and sizes. In particular, they were asked to run the following commands on a folder that contains the type of files they would store in Syncany. Because many of them might use Dropbox, they were given the option to choose the Dropbox folder.
wget http://syncany.org/thesis/FileTreeStatCSV.java

javac FileTreeStatCSV.java

java FileTreeStatCSV ~/SomeFolder

Analyzing directory /home/username/SomeFolder ...

Saving to syncany-size-categories.csv ...

Saving to syncany-type-categories.csv ...
After running the commands, they were asked to upload the CSV files using the an interface on the Syncany Web site. The program generated two CSV files — one containing data about the file types, and one representing a histogram of existing file sizes:
Excerpt of syncany-type-categories.csv:


fileExt,totalFileCount,totalFileSize

bmp,1,1025442

jpg,9,7772374

pdf,3,244802

doc,110,2044928

docx,1,35428

...

Excerpt of syncany-size-categories.csv:


fileSizeCategory,totalFileCount

128,36

256,14

512,38

1000,46

2000,38

...
>> Next chapter: Appendix "List of Variables Recorded"
---
---
JP




Thiruven Madhavan



I'd very much like to hear what you think of this post. Feel free to leave a comment. I usually respond within a day or two, sometimes even faster. I will not share or publish your e-mail address anywhere.