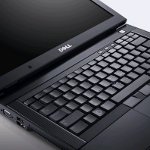 A couple of days ago, my 4 year old laptop (HP nx8220) decided that it was time to retire and refused to switch on a couple of times. Even though it works most of the time, I can't rely on it anymore and will therefore look for new notebooks in the next week.
On my journey through the Web I looked into the details of various business notebooks. I stumbled across the Dell Latitude E6400, which looks nice and has everything I wanted. Unfortunately, it also seems to have problems with Ubuntu. In particular, the fan seems to run all the time (and not too slow, but very loud) – as many forum posts and user reviews prove [1,2,3,4].
Since I couldn't find a solution, I decided to ask the Dell support via their support chat.
Update Nov/09: It appears that a BIOS update addresses the heat problem. Please refer to the community forum post (thanks to chato) for details.
Here's what I found out. Note: This is a chat with the German Dell support from September 21, 2009, translated into English.
Me:
The Latitude E6400 has (like many forum posts say) a big problem with Ubuntu. In particular, the fan is always on and makes a lot of noise.

Agent:
Welcome to the Dell Chat.

Me:
Hallo. I'd like to know if there already is a solution for this problem. I was thinking about buying a E6400, but I couldn't find any solutions for the fan/noise problem in Ubuntu.

Agent:
Since we do not support Ubuntu on this device, Dell does not work on a solution. Ubuntu is currently only supported on netbooks. There is no solution.

Me:
Okay. Do you think there will be a solution in the future? Is Dell planning to support Ubuntu on the E6400? Or never?!

Agent:
As I said, we don't sell the device with Ubuntu.

Me:
Okay. Thank you for the honest answer. I'm gonna have to buy a Thinkpad then … Have a nice day.

Agent:
I'm sorry. But we don't support Linux.

Me:
It's not your fault. Thanks anyway. Good bye.

Agent:
I'm so sorry.
So the outcome is: The Dell Latitude E6400 doesn't support Ubuntu and is NOT planning to solve the fan/noise problem.. That means, I'm gonna have to buy one of those ugly Thinkpads. But what other solutions are there?! None!
Paul T




chato




svctr